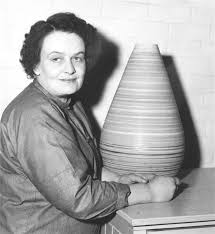 1899-1973
Finland
Maija Grotell attended Helsinki's Central School of Industrial Art, and studied painting, sculpture, and design. Upon graduating in 1920, she worked in Helsinki with ceramist Alfred William Finch (1854-1930). In 1927, she left Finland and immigrated to the United States, where she studied at the New York School of Ceramics, Alfred University, under Charles F. Binns (1859-1935). After her years of study with Finch and Binns, Maija began a series of instruction positions throughout New York City.
In 1936 Maija began instructing in the new and developing School of Ceramic Engineering department at Rutgers University in New Brunswick New Jersey. In 1938, Maija accepted a teaching position at Cranbrook Educational Community outside of Detroit, Michigan. Maija focused on fostering her students' creative independence, rather than give step by step instruction.
Maija's life work is that of instructor, but also as a persistent investigator of finishing glazes. The larger kiln and facilities at Cranbrook allowed Maija to begin experimenting in large scale and high-fire glazes, which she became famous for. She could throw an enormous 45 kg of clay on the wheel. Her glazes are often matte, but she also worked with metallics, ash, and relief glazes. Her pieces are simple yet impressive, functional yet decorative. Maija Grotell was surrounded by dynamic, innovative, and modern ideas at Cranbrook, which invigorated and inspired her work in ceramics. Her dedication to experimentation at that time to progressive glazes applied to simple utilitarian forms helped to define and advance modern ceramic works in the America.
See more in:
Ian Chilvers, The Oxford Dictionary of Art, 2004, Oxford University Press USA.
Janet Koplos, Bruce Metcalf, Makers: A History of American Studio Craft, 2010, The Center for Craft, Creativity and Design.
The Marks Project, The Dictionary of American Studio Ceramics: 1946 Onward (http://themarksproject.org/marks/grotell)